Retailers add their slice to the sustainability pie
April's been great for sustainability and eco efforts throughout The Brewery
We've been doing our thing to get greener and so have our retailers. This month we're giving a big thumbs up to both TGI Fridays and MOD Pizza who are making great moves to be more environmentally conscious!
Plus we've changed The Brewery escalator lighting to energy efficient LEDs
And our new doorway mats are made from recycled fishing nets which help save the turtles from getting stuck in waste on the ocean floor

Let's start with TGI Fridays. In March one of Romford's most popular chains announced that it was removing all plastic straws from its restaurants to reduce plastic waste and help protect the environment.
All 81 of its sites – including the one based here at The Brewery – now only hand out biodegradable and 100% recyclable straws, and they only routinely give these to children or people who have ordered blended drinks or milkshakes.
In case you're wondering why this is such a big deal – let's put it into a bit of context – or, as they say: 'get ready for the science bit'…
Like plastic bags, it's thought that it takes hundreds of years for plastic straws to decompose, which is currently harmful to marine wildlife. This is because many of these end up in the sea floating alongside fish and turtles who try to eat them. Just by reducing these, there's less of a risk to our marine life getting harmed. We'll drink to that TGIs!
And that's not all we have to shout about! This month MOD Pizza also announced that it was using Veg Ware pizza boxes in a bid to add their slice to the sustainability pie.
Made of sustainably-sourced paper, these pizza boxes don't contribute to the forest cull, thus protecting wildlife. They are also unbleached meaning they are more sustainable in terms of manufacturing. Once you're done with the pizza goodness, these boxes can be composted alongside food, reducing waste as well as the catering industry's carbon footprint. What a great way to top off the month!
Tom Stobbart, Centre Manager at The Brewery Shopping Centre, said: "We're proud of all of our sustainable efforts so far at The Brewery and are delighted that our retailers are also helping us continue to work towards making our scheme better for the environment."
---
Our sustainability efforts this month
We're always trying to be greener, more sustainable and well, all round kinder to the environment and our efforts so far have been awarded with a 'good' BREEAM certification.
And, this month, we've stepped it up a little further – some-what literally! If you've been to The Brewery recently, you'll have spotted our new LED escalator lights where the cinema is. Not yet? It's in the video below…
While you'll agree they look awesome, we've got a not so little secret… they've got brains as well as beauty. Yep, that's right. These LED lights save energy, meaning that we're doing our bit again to help the environment.
And that's not all! We've also been working with Synchro – a company who supply mats made of recycled fishing nets. What does that mean? Well, it's two-fold. The company takes the discarded fishing nets from poor communities in the world, meaning they are not left in the sea to trap turtles and other wildlife. They then recycle these, limiting the need for manufacturing new materials. There's something to bear in mind next time you walk over the mats in the main foyer!
That's it for this month folks, but don't forget to keep checking in for more – and looking out for the extra recycled bins we have on site too!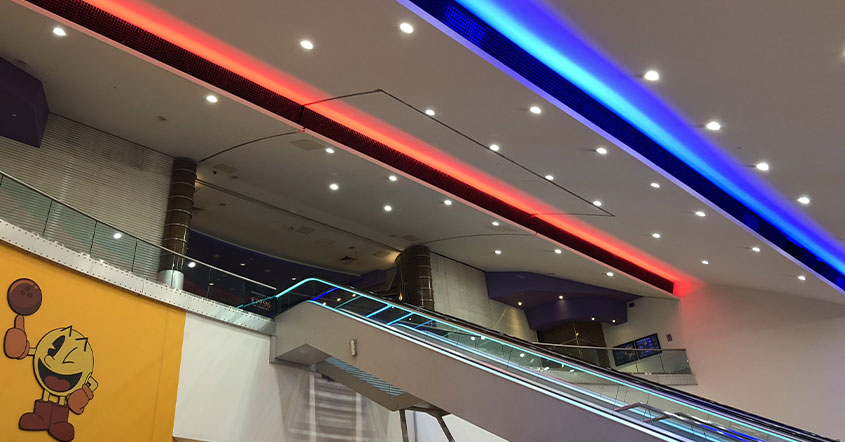 ---
BREEAM 'Good' Rating
The Brewery, Romford a Savills UK first, achieves a 'Good' rating from BREEAM in use for both Asset Performance & Building Management; whilst simultaneously holding ISO14001.
The Brewery, Romford is pleased to announce a UK retail and leisure industry double success.
The popular shopping centre, situated in the historic market town of Romford, offers shoppers a broad range of retail, restaurant and entertainment facilities, including Vue Cinema, TK Maxx, Mod Pizza, Gap Outlet, TGI Fridays, KidSpace soft play and Namco Funscape.
The centre has recently been awarded a certification from BRE – the world's leading building science centre, under Part 1 and Part 2 of the BREEAM In-Use International 2015 Scheme, which is designed to drive and showcase excellence in the operation of existing buildings. BREEAM also covers newly-constructed assets and is an internationally recognised certification brand.
The Brewery Awarded 'Good' for performance in operation
The Brewery achieved a 'Good' BREEAM In-Use rating for performance with its efficient waste disposal, the installation of a more efficient water supply process and the increased efforts to reduce energy costs.
The assessment was completed by Thomas Vazakas at RPS, with the Centre being certified in September 2018 for the owner TH Real Estate (now Nuveen) under management by Savills.
By lowering running costs, The Brewery can maximise commercial returns, as well as creating an appealing environment for both new tenants and local shoppers, resulting in a more desirable retail and leisure site for people to enjoy living, shopping and working.
Follows previous award of 'Very Good' for new construction in retail
The Brewery had already achieved a 'Very Good' BREEAM certificate for new construction in retail for Romford Pavilion 3, Units 1 & 2, the unit occupied by Patisserie Valerie.
The assessment was completed by Shivani Kothari at Synergy BSS Ltd, with the Centre being certified in September 2015. Categories scoring particularly well included transport, energy and materials. This reflected the importance The Brewery had placed during the project on sourcing local sustainable materials for the build.
The Brewery Centre Manager, Tom Stobbart, said:
"I'm delighted that The Brewery has been recognised with this level of BREEAM accreditation in two different parts. As a team, we have been focused on improving a number of specific aspects of the site over recent years, and sustainability and the environment are both high on our list of priorities.

The centre has also recently gained ISO 14001, an accreditation that recognises the Environmental Management System (EMS) used to manage the immediate and long term environmental impacts of an organisation's products, services and processes.

Working towards these certificates has proven to be a great motivator. We're looking forward to continuing with all the good work and establishing a wider set of excellent credentials for the site."
Sam Shores, Management Director at Savills said,
"We are thrilled for The Brewery. We believe that this combination of simultaneously holding Bream in use and ISO14001 is a UK 1st for a Savills managed property. Well done to all involved."